Hitting that moving target: What is integrated marketing?
 A good marketer recognises that to continue to grow long term, a business needs to start building a brand.This is achieved through an integrated marketing strategy which incorporates both direct response advertising as well as long term brand building activities.

An integrated marketing strategy communicates your company's messages over different platforms in a carefully chosen way to deliver a seamless customer-centric experience.
Integrated Marketing Communication (IMC) is based on the premises of consistency, collegiality and synergy. 
It requires people to work together, across the client organisation and across the various external stakeholders, so that all brand touch points are integrated, and the customer journey is smooth and effective. This need for collaboration can be seen as fundamental to the four key components of IMC being: 
media neutrality
consumer centricity based on customer insight
co-ordination and, 
consistency across the customer experience and the strategic involvement at board level.
Your integrated multi-channel marketing strategy should include both short term activation tactics and long term brand building activities. Research conducted by Binet & Field in their book The Long and the Short of It delved into this. The graph below demonstrates how large organisations such as Nike, Apple and Nestle are have built using both brand and performance marketing.
Upfront spend on sales activation delivered a sales uplift for each campaign.
However, you can clearly see that over the longer term brand building activities eclipsed sales activation, delivering far more value to the business.

That's not to say activation activities don't have their own place, they certainly do. A budget split of 60% on long term brand building and 40% on more immediate activation activities is recommended.

Combo App, a digital product and app marketing agency says, "Marketing teams who regularly use integrated marketing technologies are 57% more effective and productive at delivering positive ROI through their work."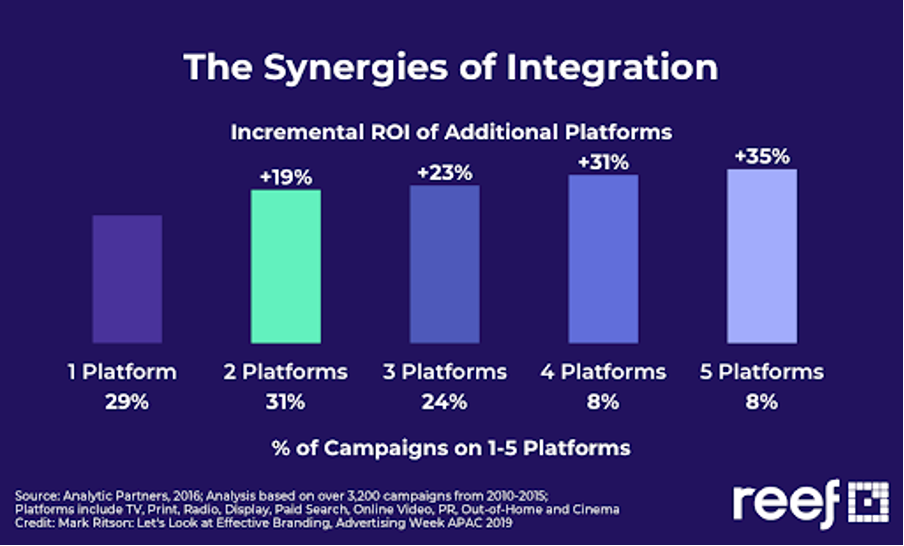 What is integrated marketing?
According to Smart Insights, an online publishing and learning platform, "Integrated Marketing is a strategic approach to integrating communications and interactive experiences targeting defined audiences and individuals which coordinates all aspects of marketing of a brand… in order achieve consistent messaging customised where possible by channel which presents a unified and seamless experience to consumers across the customer lifecycle or path to purchase."
At its most basic definition, integrated marketing requires marketers to use all available marketing channels at their disposal to create or amplify a marketing campaign to a specific buyer persona or target audience. 
As digital platforms continue to grow and evolve, it can be overwhelming to sort through the marketing options to find the perfect mix that works for your brand. Social media, email marketing, search engine optimisation, content marketing, as well as traditional marketing approaches, all offer channels to reach your customer, but unless an integrated campaign is created that brings these tactics together seamlessly, your message can get lost in the clutter.
What are the benefits of an integrated marketing strategy?
Following an integrated marketing approach is vital as it creates consistent messaging across all platforms, saves your company money, and will enhance the productivity levels of your team.
HubSpot believes, "Integrated marketing is aligned with a simple but powerful marketing philosophy: that any interaction someone has with your brand, on any channel, should reinforce their impression consistently, and positively."
But, why is an integrated marketing strategy better?
It delivers improved results
In a traditional approach, teams work separately to achieve their respective goals. Integrated marketing requires your whole team to use the same message and communication tools to deliver an integrated and well-thought-out campaign to your target audience.
Brand and creative consistency in your marketing campaigns can save you a lot of money. Using the content across various platforms reduces copy, printing, and design costs. 
It establishes thought leadership and greater brand visibility
Businesses need to follow an integrated marketing approach to stand out from competitors. Offering guidance, helpful tips and relevant information delivers a consistent message to your target audience across all platforms. 
Consumers are looking for consistency across the marketing mix as the messaging becomes more trustworthy and less disjointed. 
If your company can deliver a consistent message across multiple channels to a wider audience, your revenue will increase significantly and this means that all departments work together to achieve a common goal. 
Want to learn more about integrated marketing? Contact us to get in touch!
How to successfully plan and implement an integrated marketing strategy
The bottom line matters and for brands, this means generating tangible results from a marketing campaign. There are a few steps that your business can follow to get maximum ROI from your marketing and advertising campaigns: 
Understand and know your audience
Knowing your audience is the foundation of an integrated marketing strategy. You need to identify who your audience is: their buying habits, their interests, the way they consume media, and how they use your product or service. 
Mediatool, a media planning solution recommends spending time to get to know your target audience by asking relevant questions, such as:
Where and how does your target audience consume media?
What kind of information are they looking for?
Are they active online?
Do they respond to copy or images?
How old are they and what are their interests?
How  does the past marketing and sales data look like and how does it influence who you are trying to target? 
Put a face to your customer
Buyer personas are semi-fictional representations of your ideal customers and can be used to create a virtual map that charts out how your customer interacts with your brand at various touchpoints. Buyer personas are built from research generated by talking to customers about their experiences, as well as surveying and interviewing your sales and marketing team.
Make sure you have a solid strategy in place
Different media channels are more effective in different stages of the buyer's journey. Likewise, different media platforms are more effective for reaching different audiences. Once you have determined who your two to three most important buyer personas are, the next step is formulating a strategy to reach these personas at various stages of their buyer's journey. Your strategy will need to address how to reach the personas, the most appropriate channels to communicate with them, and the messages that need to be delivered. To be effective, your strategy needs to incorporate SMART (Specific, Measurable, Achievable, Realistic, Time-based) goals. 
Determine your budget
It's one thing having a strategy in place or a realistic idea of what you have to work with, but it's another being able to budget accordingly. Work smarter by determining and refining your overall budget before you start the implementation phase. 
Consistency is the key to success
To generate trust and establish rapport with your customers, you must keep your messages clear and consistent through every point of contact with your business, from marketing to billing. Many businesses fail to achieve the growth they desire, because they lack consistency in their brand's messaging. Paul Leinwand and Cesare Mainardi, authors of The Three Elements of a Strong Corporate Identity, write: "The problem is one of incoherence: In their run for growth, companies often wind up serving so many different customer segments and so many different needs with disconnected product groups, capabilities, and strategies that it's impossible to define what the company is really about. And although such companies may be OK at many things or may have been great at a point in their growth, their lack of focus creates a struggle to be truly excellent at anything in the long run".
Choose your platforms carefully
Although you want to reach as many prospects as possible, you do not need to market on all channels, especially if your customers are only using specific channels. Identify the ones most relevant to your customer and develop your strategy around these.
Look inwards and outwards
All your employees – no matter which department they're from – must be engaged in the marketing campaign before it starts. Keep your team motivated and allow them to voice their opinions through all the stages of the marketing campaign to create buy-in. This makes the marketing and communication process much easier and ensures that customers get a consistent experience when they interact with your employees for whatever reason. 
Measure what matters
You can only get feedback around what works if there is some measurable conversion metric in place for every aspect of the marketing campaign: for example, sales, number of emails sent, or amount of phone calls made. This will change depending on each campaign and its desired outcome, but these are some of the metrics that can help you keep track of the effectiveness of a campaign: 
Revenue: How much money/profit did your campaign make? Track this to the sales funnel
ROI: How much did you spend relative to the revenue earned?
Conversions: How many people responded to a call-to-action? 
This information will help you track the effectiveness of a marketing campaign and how best you spent your marketing budget.
A flawlessly-executed integrated marketing strategy is difficult to develop and requires expertise, creativity, and experience. Working with the right partners who understand what it takes to craft a powerful campaign can make all the difference.